Traditional Country Inn FREE HOUSE
The Cefn Mably Arms is a beautiful cosy country inn offering a real alternative to the stereotypical gastropub. Our log fires, wood beams, slate floors and natural materials help to create a warm, welcoming atmosphere.
Relax in the wonderfully spacious beer gardens whilst relishing the scenic countryside surroundings or enjoy a pint of real ale, fine wine and home cooked fine dining.
Meet your canine host dog Alfie Mably "The Cefn Cocker" and his Grandson Ralph. Do let us know if you want a dog friendly table as this is limited to the bar but comfortable.
Unfortunately we are a small dining venue and are unable to accommodate children under the age or 12 years of age. ( Sorry but there's no children concessions so extra charges could apply)
Please advise us in advance if you are bringing a celebration cake or if you would like us to do a surprise dessert for the guest or guests. (A Cakeage fee could be applied)
Smoking is prohibited other than in limited areas - please ask when booking.
It is advisable to book your own taxi service in advance especially if it is at closing time.
We will only hold your reservation for 15 mins so do call us if you are going to be late.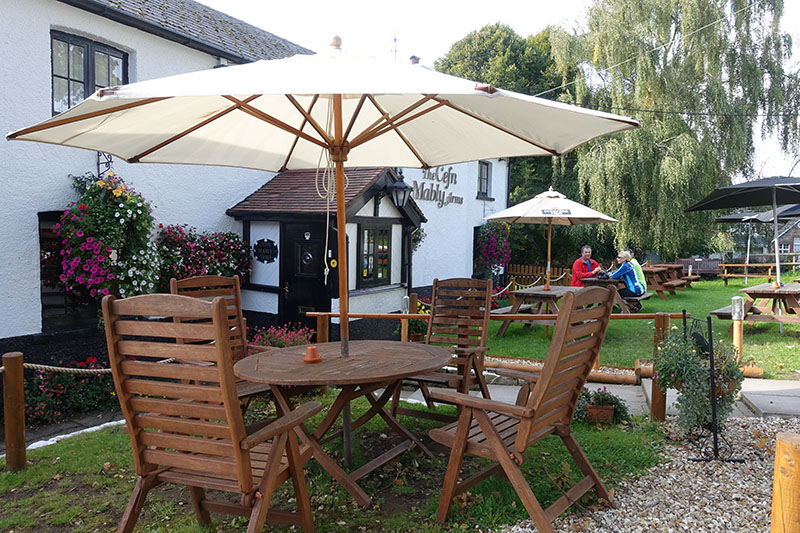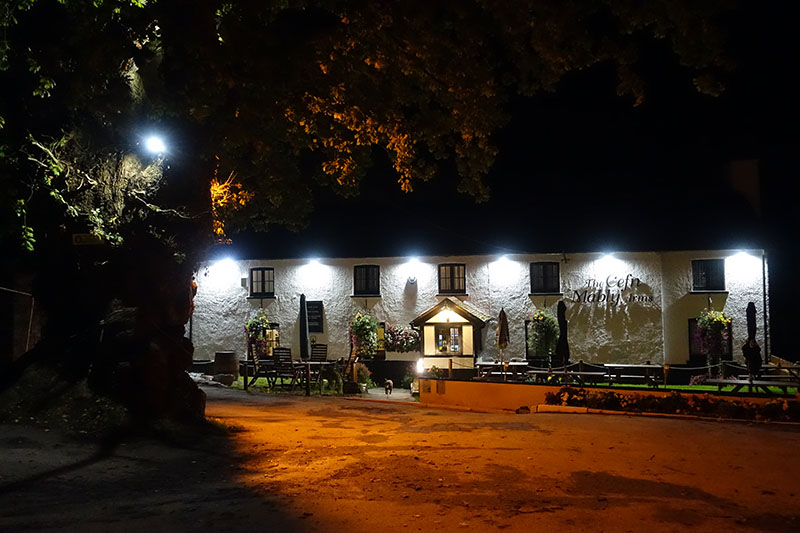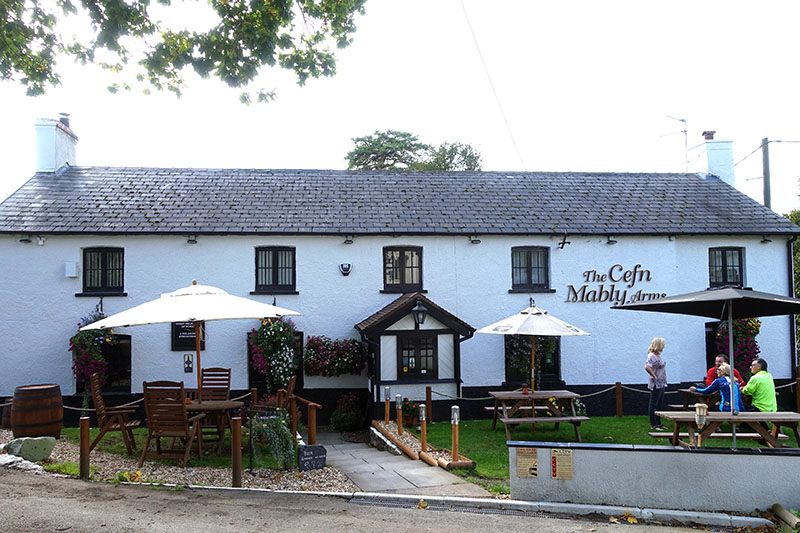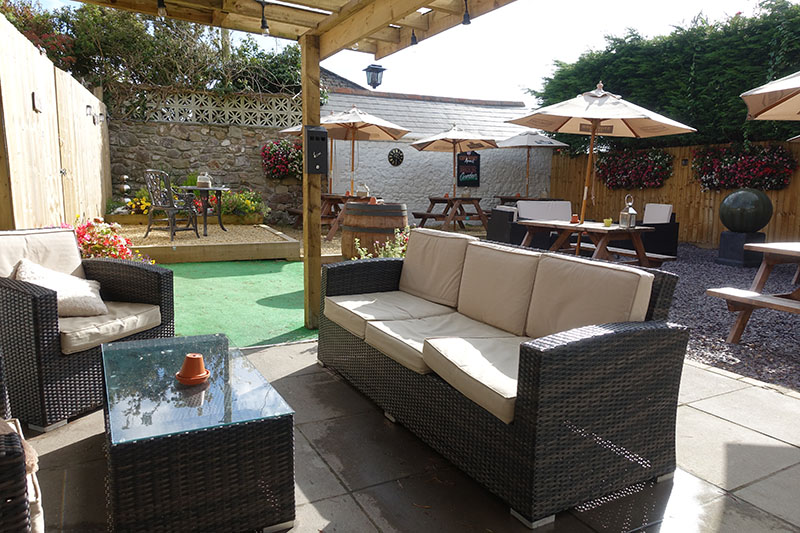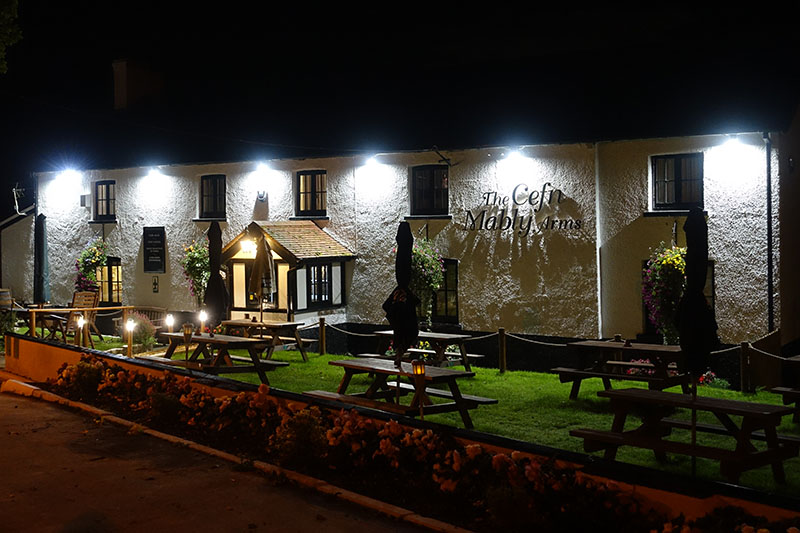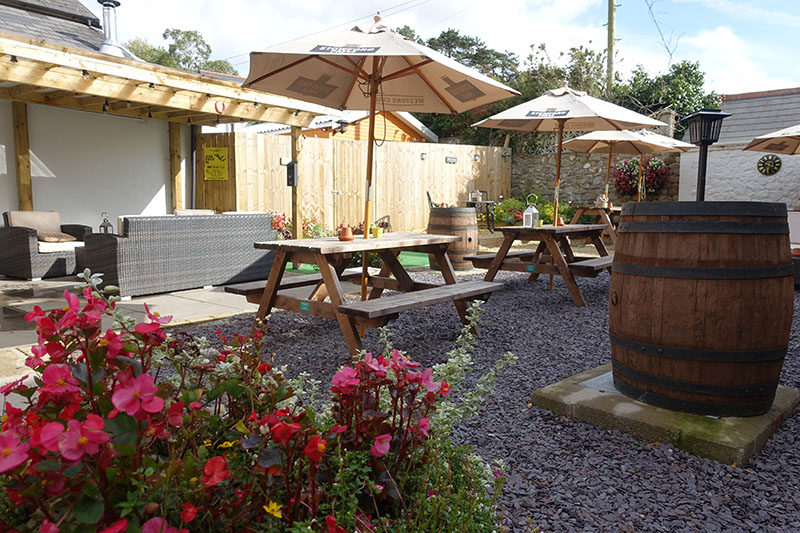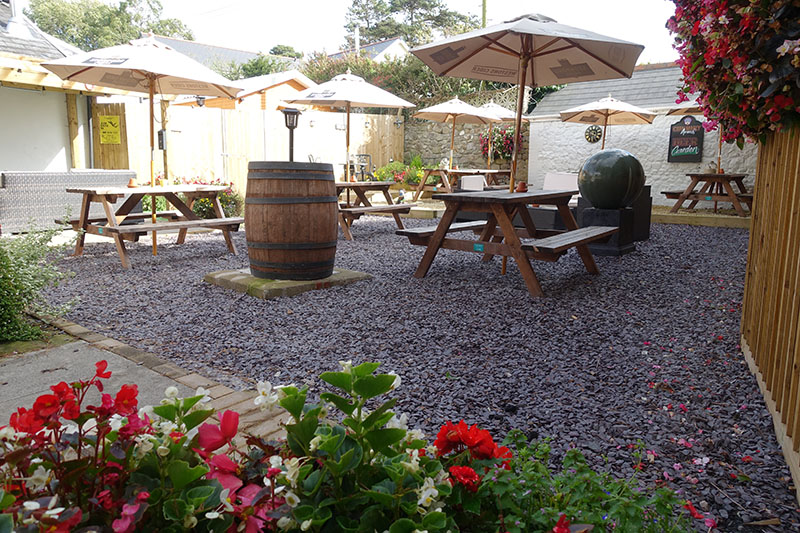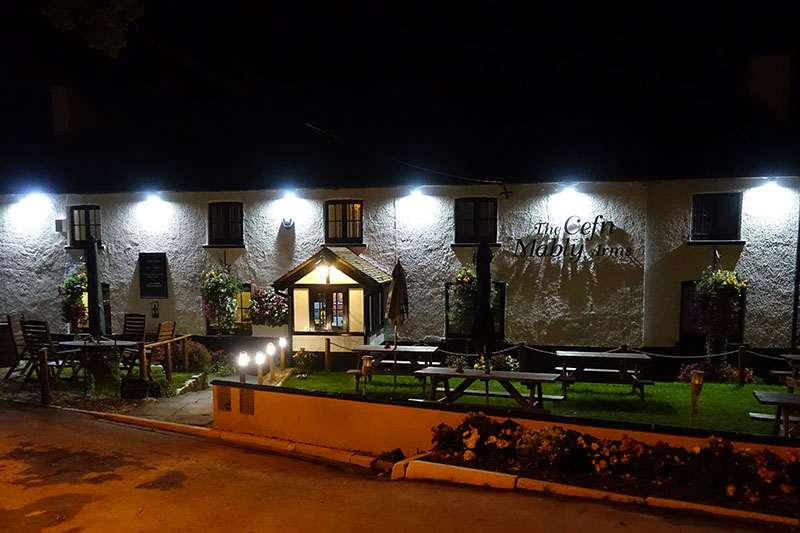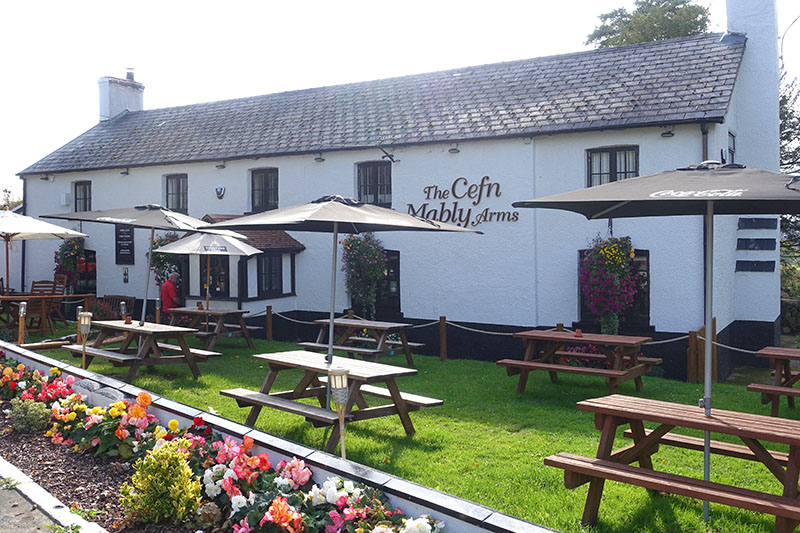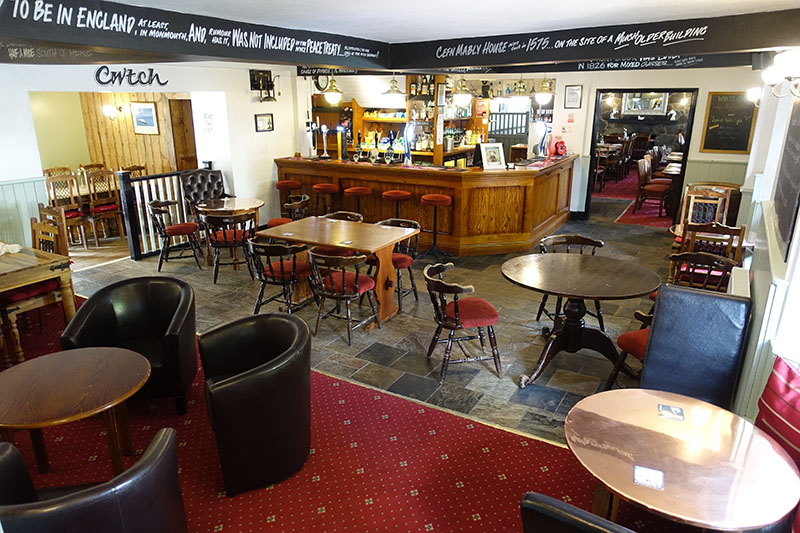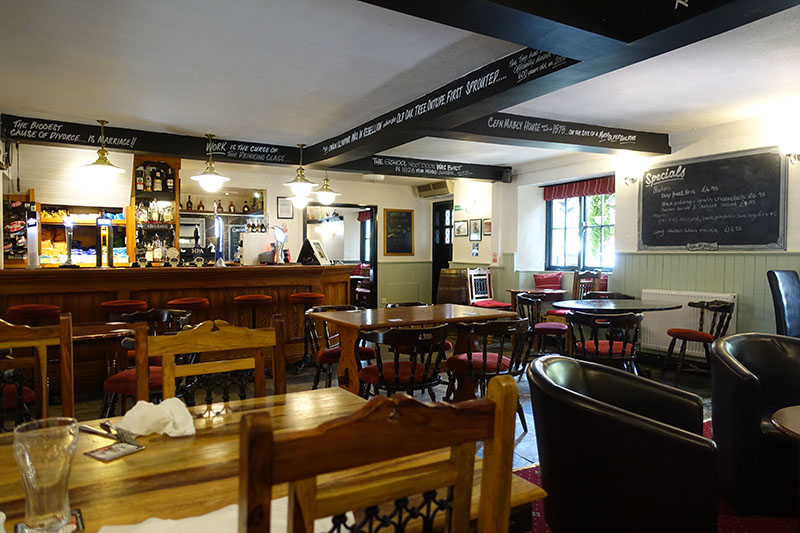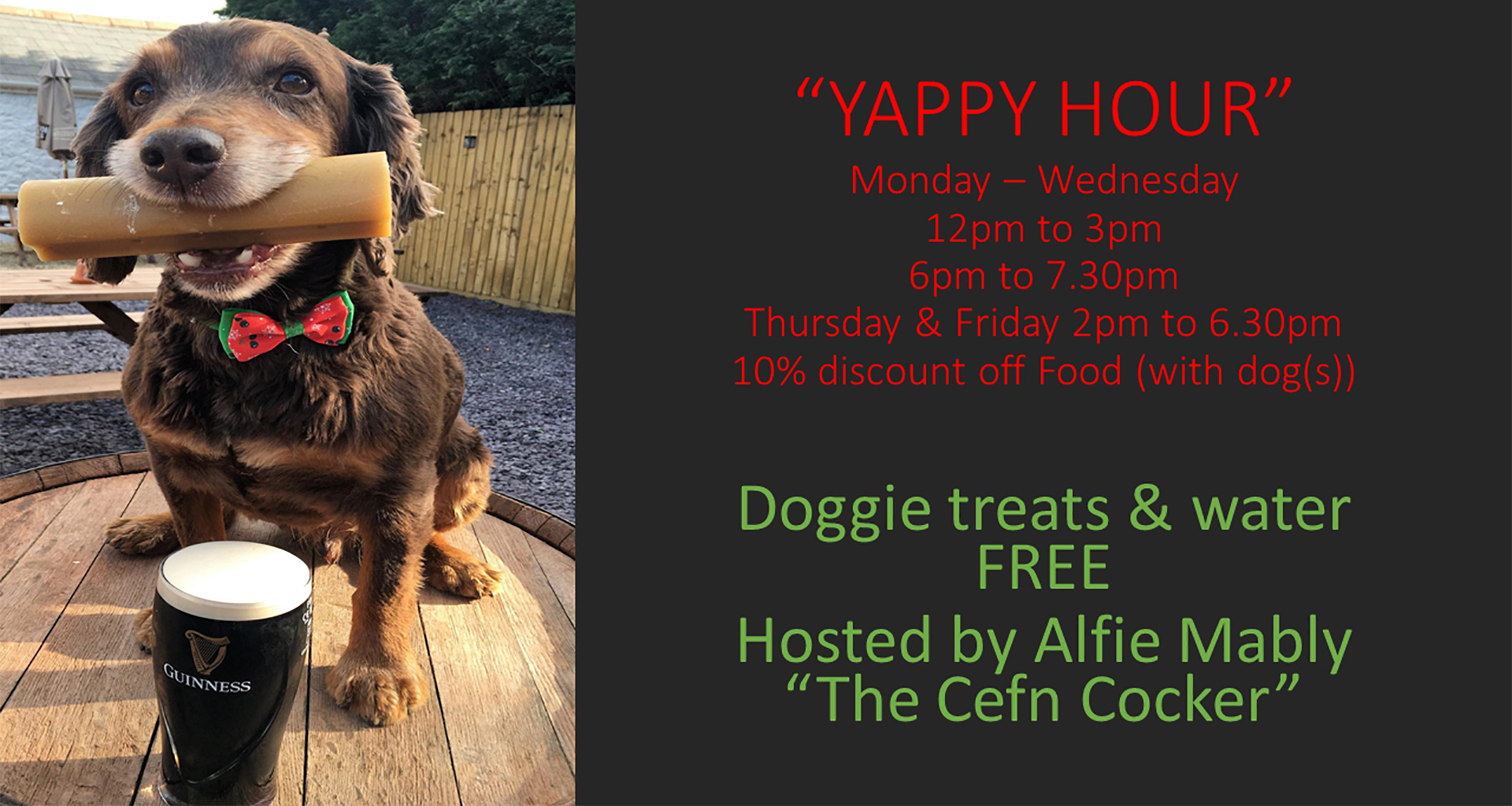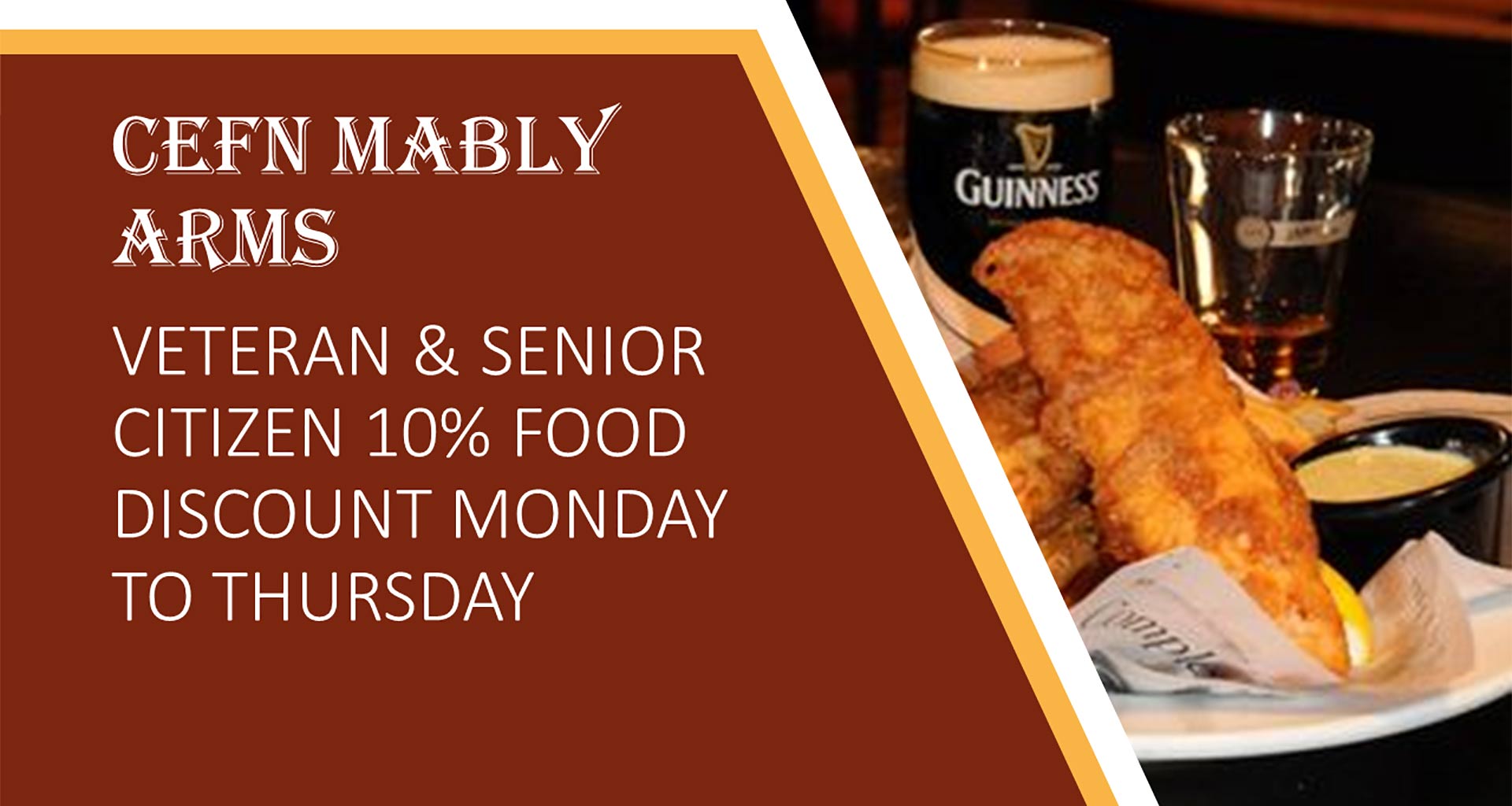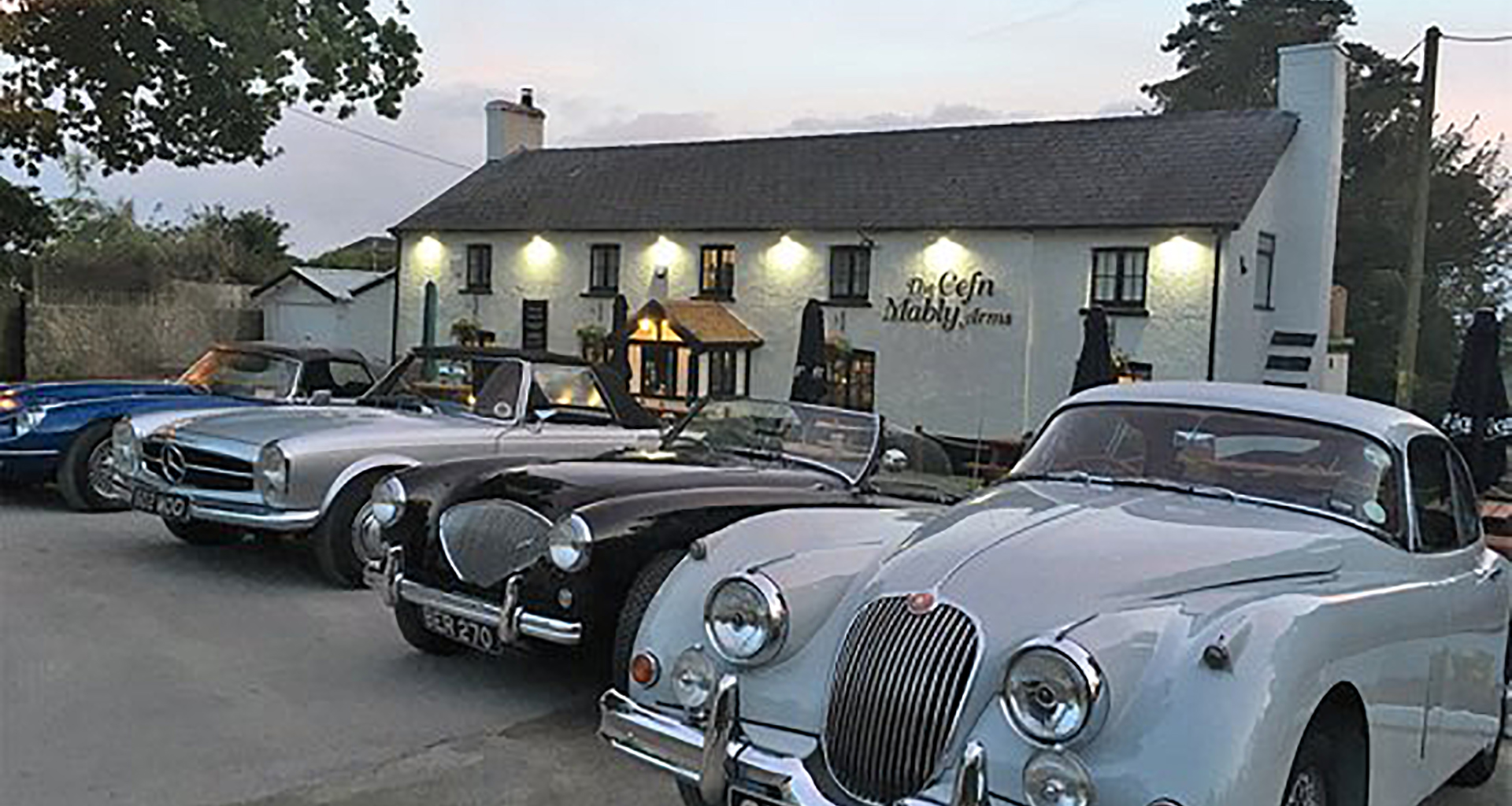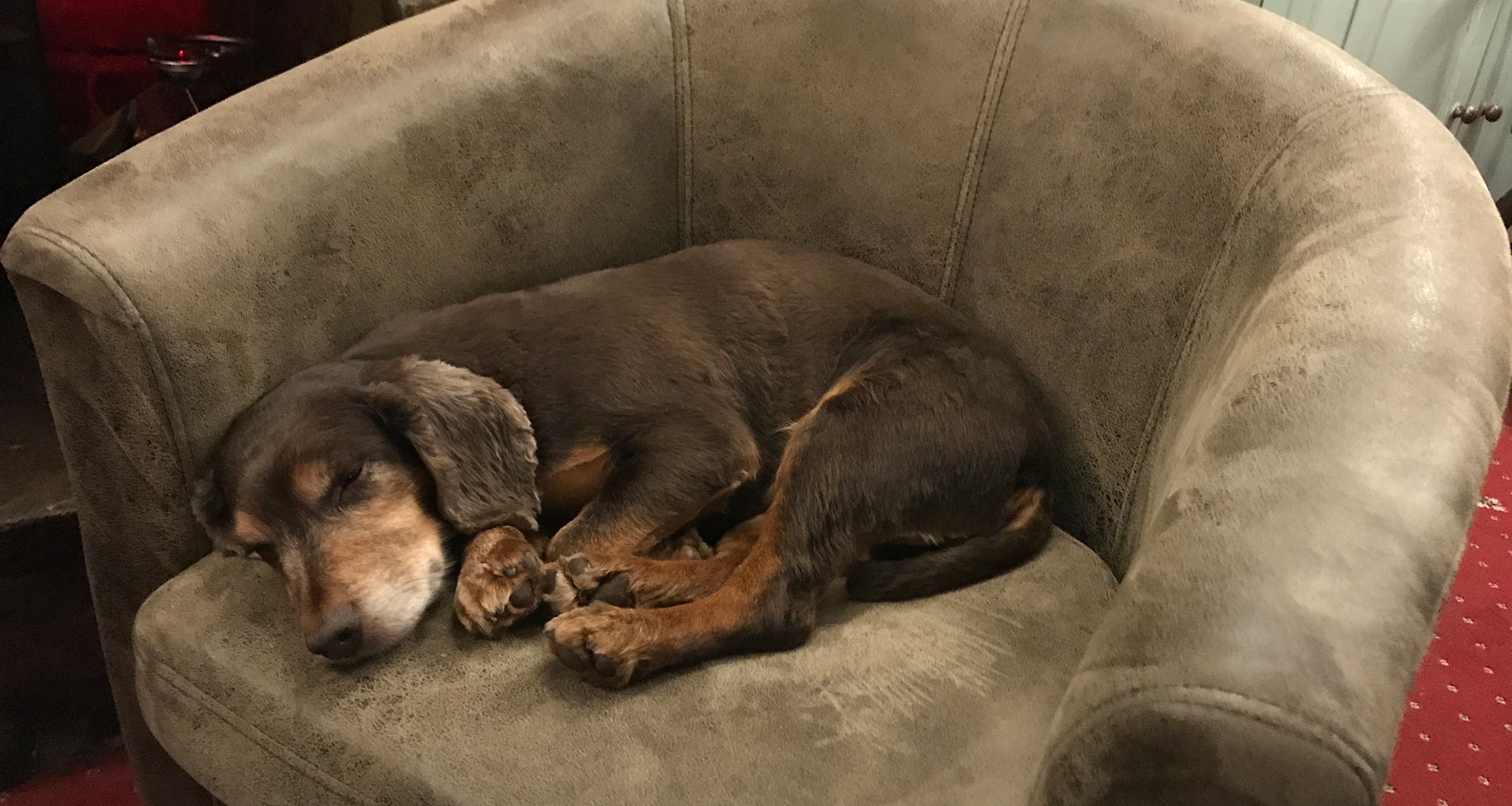 Opening Hours
Bar & Beverages & Dining
Monday
Bar 5pm to 9.30pm
(No dining)

Tuesday & Wednesday
Bar 5pm to 11.30pm
Dinner 5.30 to 8.30pm

Thursday
Bar 12 midday to 3pm, then 5 to 11pm
Lunch 12 to 2pm, then 5.30pm to 8.30pm
Friday
Bar 12pm to 3pm
Lunch 12 midday to 2.30pm last orders 2pm
Dinner 5pm to 9pm
Saturday
Bar 12pm to midnight
Lunch 12 midday to 2.30pm
Dinner 5.30pm to 9pm
Sunday
Bar 12 midday to 9.30pm
Lunch 12 midday to 4.30pm
Bank Holiday Monday
Bar 12 midday to 10.30pm
Dining 12 midday to 8pm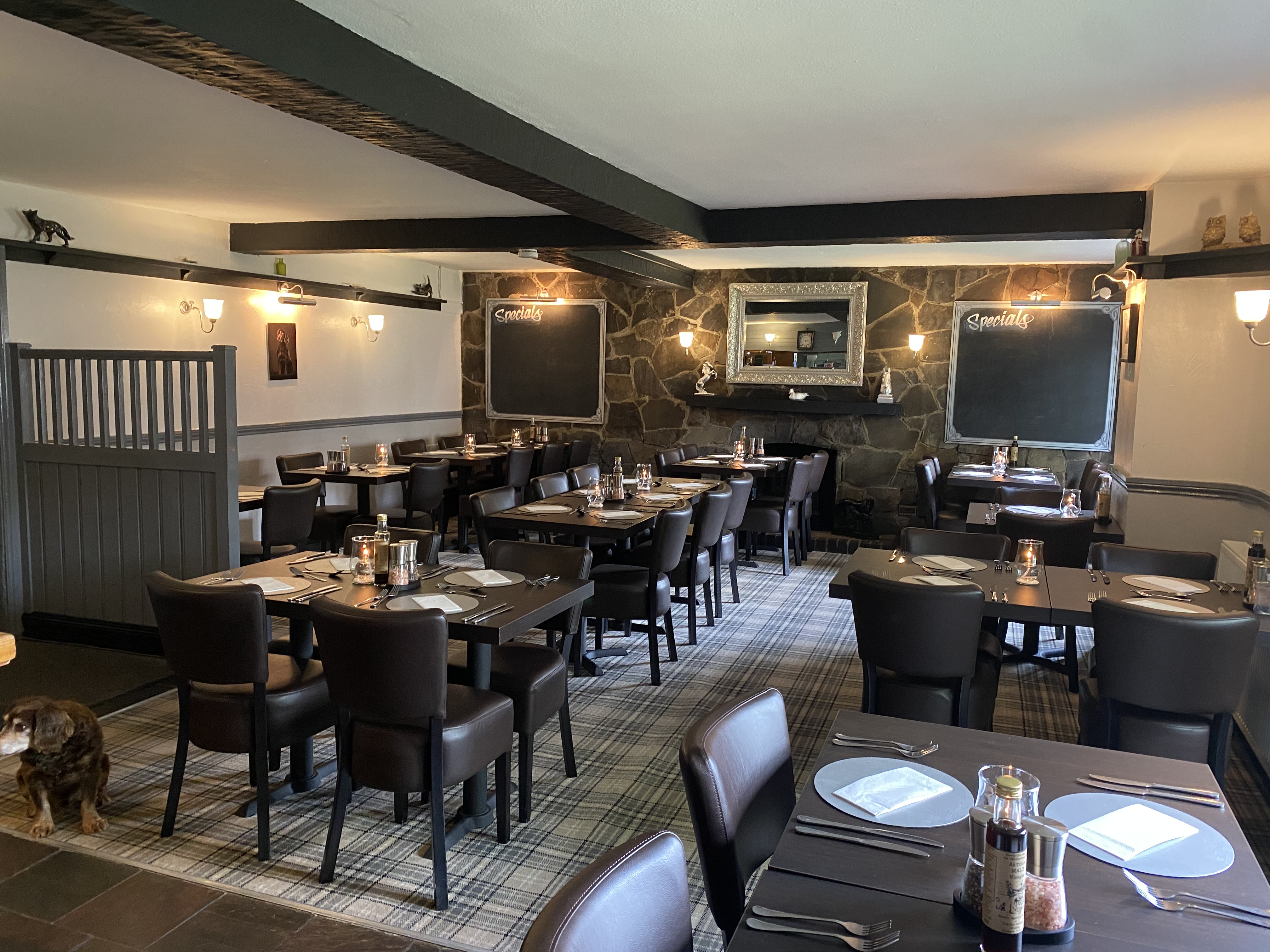 Dining
Whether you're looking for a classic simple meal or a la carte , the Cefn Mably Arms will not disappoint, as we offer a range of menus to suit any culinary tastes to be eaten by the fire in winter or in the relaxing sunny beer gardens in spring and summer.
Our kitchens were completely refurbished with the latest state-of-the-art equipment and our team in the kitchen have a wide range of experience in the preparation and serving of fresh, local produce. When it is busy you might wait a while, but freshly cooked food is worth the wait. We have a wide range of wines including sparkling wine to superior Champagnes as well premium lagers, real ales and spirits with a wide selection of Whiskeys and Gins and interesting mixers too.
Add to that our attentive waiting staff you can be sure your visit will be a memorable one. Just look at what our customers have to say about us below.
PLEASE BOOK IN ADVANCE FOR PREMIUM TABLES AND TIMES TO AVOID DISAPPOINTMENT. DEPOSITS MAY BE REQUESTED AND REFUNDS ELLIGBLE 72 HOURS IN ADVANCE OF RESERVATION
WE ARE A SMALL ESTABLISHMENT SO OUR LARGEST BOOKING IS FOR 6 ADULTS for most days and times. Larger groups of adult diners may be accommodated on certain times by request and During December.
WE CAN ONLY ACCOMMODATE PEOPLE OVER 10 YEARS OF AGE that eat off our menu .
REGRETTABLY THE BUIDLING IS NOT SUITED FOR ALL DISABLED PEOPLE SO DO CALL TO SEE HOW WE CAN ACCOMODATE SPECIFIC REQUESTS & POSSIBLE WHEELCHAIR ACCESS
DOGS - WELL BEHAVED DOGS ARE WELCOME IN THE BAR (subject to table space & table suitability, both front and rear BEER GARDENS are perfect for your pooches). To respect other diners and to comfort your dog please advise us if your dog is muzzled or may need a more secluded area.
What people say about us
Outstanding hidden gem!!
On arrival found a space in the car park easily ... surrounds very nice looked after very well it was around 2:30pm so was a little more quieter owner of the pub very welcoming excellent service got us a table straight away pub clean and tidy ordered drinks and then our meals ... wow wow wow lamb shank is insanely delicious.. waitresses so lovely. If your passing be sure to pop in well done Cefn Mably Pub.
SadeHarford, Cardiff, Wales (Tripadvisor)
Great Country Pub
There is a lovely, welcoming atmosphere that shakes your hand the moment you walk through the door. If you were introducing a visitor to this country to pub culture, this would be the place to take them. All of the staff, including the pub dog offer friendly and efficient service. If you want to chat, they will; if you want a spot in corner with your pint- no problem.
The food is what you want from a pub - hearty and wholesome; great cheese board, ( enough for two to share for lunch). You will also find great steaks, venison, fish and veggie dishes. I haven't tried them all yet, but there is still time and I intend to visit again to sample some more of the food that is on offer.
The only problem I have got is that I can't convince other people to drive so I can enjoy more than a half pint of beer.
Kevin L, Cardiff (TripAdvisor)
Great food served by great hosts
Booked a large family event at lunchtime early in November. A big thing for our family. Actually the very first time we have managed to get all 14 of us in one place at the same time. The booking was made based on previous visits my wife and I had made to the pub and the big event did not disappoint.

Fourteen meals came out of the kitchen together with every dish absolutely spot on! We were a tad boisterous and the staff joined in with the spirit of the occasion and helped us enjoy our time.

Not a single negative comment from anyone after the meal and lots and lots of compliments. Thank you to Ben, Caroline and the team for a great day.
GEGandESG, Newport, Wales (TripAdvisor)
All a country pub should be
Pretty much the real deal if you want a country pub which serves good local beer and does lovely food. Have been recently for Sunday lunch and evening meals. Would recommend both. Sunday lunch was good value, good portions and very tasty. Choice of restaurant and bar area to eat in. Also has a nice beer garden.
Evening meal was great. The chocolate gnocchi pudding was amazing.
It is also dog friendly (free doggy treats for the pooch).
Staff welcoming, friendly and attentive.
Well worth a visit.
nobster666Cardiff, Cardiff, Wales (Tripadvisor)
A wonderful Sunday lunch in this outstanding establishment
This is our second visit to the Cefn Mably Arms. On both occasions we were travelling from Dorset to Swansea to drop our son off at University. The first time was a bit of pot luck, but we were impressed, so arranged a second visit (with new owners).

From our arrival, "how was your drive from Dorset"? (I'd mentioned on the phone that we couldn't be specific on timings, because of where we were coming from), to the excellent service, and delicious food, we couldn't have chosen better.

This is a busy pub and you can see why. The owners have got it spot on.

Hopefully one final visit before our son finishes at Swansea next year.
Tellitasitis63, Dorset, UK (Tripadvisor)
I am in love!
Visited here in June with my partner, I ordered the lamb and he had the steak. I have honestly never ever tasted a meal like this. My lamb was out of this world and worth every penny, I can't wait to visit again.
Jader31, Wales (Tripadvisor)
Good food and pleasant service
Really enjoyed our visit here. The food is recommended. Quality, well presented and a good portion size too! What's not to like! Only downside is it's a bit in the middle of nowhere but worth the travel to be honest.
Matthew C, Newport, UK (Tripadvisor)
Made welcome on a very wet night
Popped in for dinner with friends - made immediately to feel welcome by waitress -it was quiet and a table for 4 people was quickly found - drinks ordered and menu perused -we ordered starters off the specials board - black pudding balls wrapped in goats cheese plus for main course two fried hake in batter 1 ribeye steak and 1 oven baked hake dish. The starters were as good as menu suggested and the main courses likewise - finished off with shared pudding and a shared cheese board - all food was excellent and served quickly with a .
rjames2016, Cardiff, UK
Proper pub with excellent food
Finally a proper pub atmosphere, friendly staff and a menu that is so good i will have to return regularly to try all the wonderful sounding dishes. It's a real find these days of themed large brewery owned pubs to find this absolute jewel in the crown. Great food beautifully presented at a level that surpasses many of the cities more famous eateries. I will be back and keep up the good work.
1968 Dickie, Cardiff, UK (Tripadvisor)
Proper Country Pub
This is quite a large pub for a hamlet with plenty of car parking. It is mostly dining area inside which is light and welcoming with interesting information on the pub and the area. There is an extensive menu with plenty of vegetarian choices and different specials each day. Good range of beers which I had to pass over as I was driving. Definitely worth visiting if you are in the area.
Andrew R, St. Albans, UK (Tripadvisor)
Sunday Lunch
After being recommended by another local business it didn't disappoint! Sunday lunch was delicious, a great atmosphere. Great place to escape on a rainy day and the historic facts of the area are a great touch to the building.
Lillyc6, Penarth, UK (Tripadvisor)
Cefn Mably
Always awesome welcome. Very cozy and friendly. A very big plus the food is excellent and I can take my dog
Yecart E (Tripadvisor)
Family Meal
A great welcome from the owner and bar staff.Pre book a table as it seems to be a popular place.the food was to die for everyones meal was cooked to perfection. Drinks served at your table so no need to go to bar. Will be booking again with more of family.Highly Recommended. Ps Caerfull if you try the CIDER.
aneurin j, Cardiff, UK (Tripadvisor)
Terrific Sunday Lunch!!
We were really impressed by the new garden area. Much thought had gone into the layout, horticulture and ambience. It was a lovely day so we decided to have one of the outside tables in the garden. The four of us had an excellent lunch inc roasts and found the staff to be pleasant and helpful. We'll be back.....
Umper, Cardiff, UK (Tripadvisor)
Cozy Country Pub
My family and I spent 4 days in the house next door to the Cefn Mably this summer. The evenings we spent at the pub are some my favorite of our two week vacation in Great Britain. The owners were extremely welcoming and after our first visit the Cefn Mably felt like home. We ate several meals here during our stay and everything we had was excellent. The beer garden is a lovely place to enjoy a drink in the late afternoon, and the dining room and bar area are both cozy and welcoming. The next time I am in Cardiff visiting family I will definitely make a visit to the Cefn Mably Arms.
amykticle, Millington, Tennessee (Tripadvisor)
Our Team
Meet our senior staff whose aim is to make your visit a pleasurable and memorable one.